by Gary Chapman
gchapman@lc.edu
Ever since the early 1900s, most people like to strap themselves in a cart, go up a hill and then let gravity take the wheel. While roller coasters are very safe, there are some that will give you a headache and then some. Here are some of the worst coasters as rated by enthusiasts. This is in no real particular order.
#08: Pirates Hideaway (Wisdom RIdes) Casino Pier in Seaside Heights, NJ.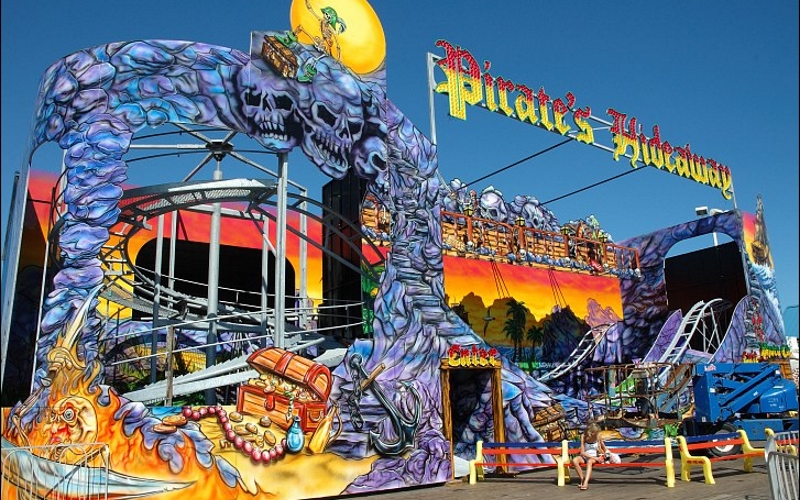 This ride, made by Wisdom Rides, was opened in 2007 to replace the ride at Wizard's Cavern. The ride is bad for many reasons, the main one being that while the outside is well themed, the inside, which you reach after going up the egg-beater lift hill, is just a steel box. It should be called Pirates Storage Unit. The layout twists around while you are thrown against the sides of the cart like mice on a ship in a storm.  So while the ride looks like treasure on the outside, this ride is like Davy Jones's Locker inside.
#07: Green Lantern: First Flight (Intamin) Six Flags Magic Mountain
This now defunct ride was built in 2011 to promote the infamous film Green Lantern and this is a ride to fit the reputation of that movie. This ride is the first of Intamin's ZacSpin models to be in North America. The ride had issues with weight distribution and not spinning, causing the forces to be applied to "certain areas", i.e. the pelvis. Leading people to give it unflattering nicknames like "The Ballcrusher" and calling it one of the worst coasters. The ride stopped operating in 2017 and was removed in 2019 to be moved to Montreal's La Ronde theme park where it will be named "Vipère". This is also the last time that Six Flags has worked with Intamin.
#06: Goudurix (Vekoma) Parc Asterix in Plailly, France
While Vekoma is now known for making great rides like Tron Lightcycle Power Run at Shanghai Disneyland, everybody has a few squabbles starting out. Goudurix, which is based around the words for "The Taste of Danger" opened with the French park Parc Asterix in 1989. The ride became well known for being one of two coasters with a butterfly inversion. It also gained a reputation for beating the riders up like Muhammed Ali and Mike Tyson's lovechild. The park has made a lot of improvements, so the ride is at least rideable now.
#05: Tornado (Pinfari M&D's Scotland's Theme Park in Motherwell, Scotland.
This ride is the only example of the RC-70 model by Italian manufacturer Pinfari. The ride featured over 1km of track and is known for being unbearably rough. The ride originally came with a brain shattering corkscrew that was removed in 2005. The ride was sold to a french traveling showman, and will be shown to a variety of crowds.
#04: Volare (Zamperla) Various Parks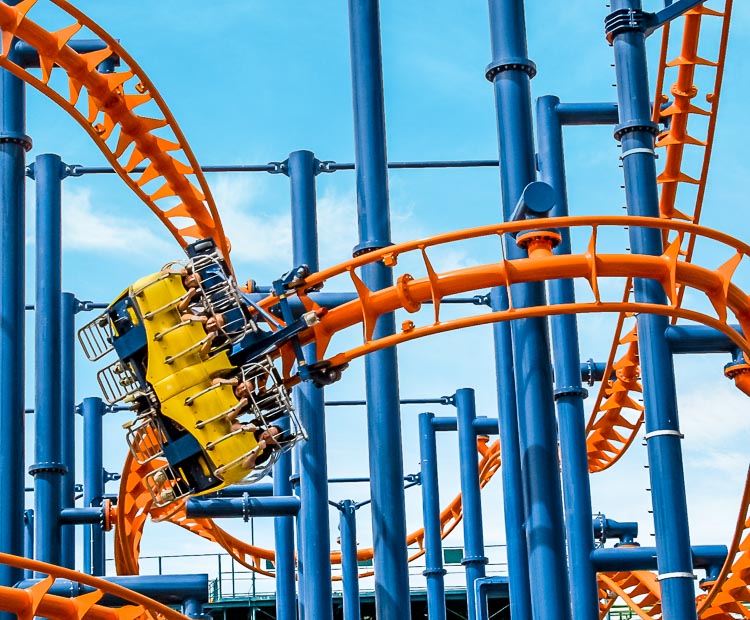 This coaster model was made to provide a flying coaster experience while taking a small budget. After climbing into the cart, you'll find the sides against your head are surrounded by thin foam. The ride then climbs up an eggbeater lift hill and it is painful from there. Currently 10 of these rides are opened with 3 in North America. Zamperla still makes them, but they have redeemed themselves with other rides.
#03: SLC (Suspended Looping Coaster) (Old Restraints) (Vekoma) Various Parks
Vekoma first made this model with El Condor in 1994 at Walibi Holland. These rides, known as "Hang n' Bangs", are known for having hard and uncomfortable restraints that the rider's bash their heads into. 
Most coaster enthusiasts agree that Mind Eraser at Maryland's Six Flags America is the worst with Vinnie T on captaincoaster.com saying that "It's a headbanging assault throughout every moment of the ride. Even your arms will not be saved as they're covered by the horrible restraint. It's a course of suffering and misery, but not all of it is horrible. At least it is somewhat intense but that doesn't say much."
The newer vest style restraints have been known to be better though.
#02: Ninja (Arrow Dynamics/Vekoma) Six Flags St Louis
I'm sorry, but this ride is reviled. The ride opened during Expo 86 as "Scream Machine" and was partially made by California's Arrow Dynamics until they went bankrupt, and then Dutch manufacturer Vekoma made the rest. The ride was moved to Six Flags in 1989 to replace the Schwarzkopf designed Jet Scream, which was moved to the (now closed) Six Flags Astroworld in 1988.  
Many enthusiasts hate this ride with a passion with incrediblecoasters.com stating that "It acts like a Ninja, just sitting there harmlessly, waiting to be ridden so you can have fun or at least just brace another crappy Vekoma and add it to your count. But WHAM!!!!! THIS THING IS HORRIBLE!!!!!! I can not think of any positive qualities about this ride."
The park has made the questionable decision to install VR on the ride, which I don't understand considering the ride's reputation. I, personally, do like the ride; maybe it's my masochistic side that does, though. It needs, at least, better restraints. 
#1: Big Apple Coaster (Togo International) New York, New York Casino in Las Vegas.
Finally, a ride that is worse than sitting in the back of a Manhattan taxi. Togo is mostly known for its high-quality coasters in Japan, with its Ultra Twister model being highly regarded. When it comes to their American installations, though, it is ugly, to say the least. This ride opened in 1997 as the creatively named "The Roller Coaster" and was a pain from the start. This ride gives a great view of the strip and then it's pain-o-clock. Even the loop is rough. The ride also costs $19 to ride, and then another $8 to reride. They are funny over there. This ride is great after losing your life savings on Blackjack.
And that is all for this compilation of the coasters that are infamously bad. Do you agree with this list, let me know.